The Buxton National Historic Site and Museum was officially opened in 1967 and is located in North Buxton, Ontario (near Chatham).
The Museum is dedicated to the preservation of material and artifacts of Raleigh Township, with special emphasis on the history and accomplishments of the original settlers in the Elgin Settlement and their descendants.
Among other things, it houses the bed, dresser, diary and copies of papers belonging to Rev. William King as well as many other articles and papers of historical significance in this community.
If you are interested in learning more about William King and the Elgin Settlement, please visit this wonderful museum. For more information, their website is: www.buxtonmuseum.com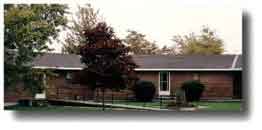 Hours of Operation
May, June, Sept: Wed to Sun, 1-4:30 pm
July & August: All week, 10am-4:30pm
Oct-Apr: Mon to Fri, 1-4:30 pm
Admission – $6.50 p.p.
Pre-School Children – Free
---
Copyright held by The Presbyterian Church in Canada Archives, 2009
If you wish to quote or use any part of this website exhibit, please give credit to the Presbyterian Church in Canada Archives.