When he was 28 years old, William married Mary Phares, the daughter of a large plantation owner near Jackson, Louisiana. Their son, Theophilus, was born in Louisiana but caught fever at the age of three and died while the family was en route to Scotland via the family farm in Ohio.
In late 1845, while living in Edinburgh, William and Mary had another child – a daughter which they named Mary Elizabeth Chalmers1. Sadly, only a few months later, William's wife developed tuberculosis. She passed away on Feb. 25th 1846.
"After the death of my wife my whole affection was placed on the child now left, that last of my family and the very image of her Mother"
Once again, however, tragedy struck William and on May 9th Mary Elizabeth died from "hydrocephalus".
"God, who had given her to me as a pledge of our mutual love, was soon to take her to Himself forever to be with her Mother in Heaven. My work was not done, I was to remain a while longer on Earth to finish the work he had given me to do. My family had all gone before me. I will follow in the appointed time when we shall meet again in the land where death never comes, and where there is no sorrow and where there is no separation."
Only three years had passed since he decided to join the ministry, but in that time William had lost his entire family. In addition to his wife and two children, his mother also passed away, his father-in-law died, and his brother-in-law was killed in the Mexican-American War.
In this time of sorrow and struggle, William was blessed by the kindness and compassion of one of the great leaders of the Scottish church, The Rev. Dr. Thomas Chalmers.
He conducted the funeral services for both William's wife and daughter, and traveled with William to the cemetery to lay the child to rest with her Mother. In his later years, William recounted the kindness and compassion of Dr. Chalmers in his memoirs:
"When sickness and death visited my family he [Dr.Chalmers] was constant in his attentions often visiting my wife on her death bed talking kindly to her with regard to her Spiritual state, and when she died he assisted with the funeral. The kindness which I received from him on that trying occasion will never be forgotten, his sympathy and kind words were a great comfort to me in that painful bereavement."
In 1853, William married again, to Jemima Baxter, daughter of The Rev. David Baxter, minister in Lillies Leaf, Scotland. They had no children, but unlike his short marriage to Mary, this one lasted for 34 years. Jemima passed away in November, 1887.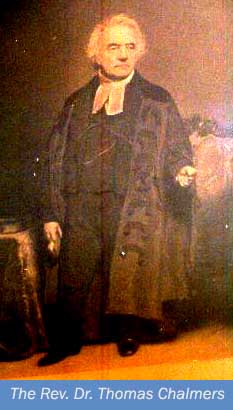 ---
1In her book, "William King: Friend and Champion of Slaves," Annie Straith Jamieson gives William's daughter's name as Johanna Elizabeth. However, in a book written by William King himself in 1893 he names the child as Mary Elizabeth.
Copyright held by The Presbyterian Church in Canada Archives, 2009
If you wish to quote or use any part of this website exhibit, please give credit to the Presbyterian Church in Canada Archives.