In her letters, Lillian provides insight on living in Taiwan through the eyes of a North American missionary. Some of her letters even contain drawings to show just 'how big' the cockroaches were!
---
In letters written towards the end of her life addressed to her daughter, Marilyn, and Marilyn's family in another area of Taiwan, Lillian describes an ordeal with some ants: "I don't have to go to Irian Jaya to be eaten. Ants came in by flocks and droves and invaded my bed, and each one took a big gobbling bite out of me. I spurted 'Raid' at them, and it didn't affect them,-they seemed to like it." (1997-5006-3-3; letter to Marilyn dated August 16, 1977)
Snakes were fairly common throughout the island, some of which were poisonous and required capture of the snake for identification in order to use the correct treatment. With natural disasters, sometimes the snakes and other animals would likewise seem to be looking for safety and shelter: "Grabers found a snake curled around their fence-post after the flood, and I remembered a flood in the Mackay Hospital Compound and snakes would coming swimming right toward you as if you were an island and they wanted to climb up on you and rest awhile." (1997-5006-3-3; letter to Marilyn dated August 12, 1977)
---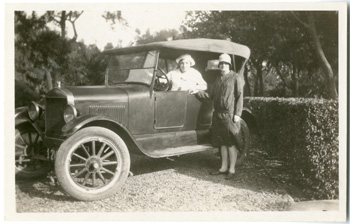 ---
Other letters lament the lack of variety in the food available: "My husband and I and two children were in Taiwan for 4½ years after Japan started war with China. Food supplies became very scarce and foreign food disappeared. Imitation foods appeared. The imitation coffee tasted like a blend of 'beans, tobacco, and sawdust.'" (1997-5006-2-5; circular letter dated January 31, 1977) Lillian would often write to her mother and sister, Amy, for them to send various goods, such as magazines, clothing, or treats. Amy, in particular, was especially understanding of their needs as she went to Taiwan to stay with them for a month one summer. In one letter Lillian expresses her feelings to Amy:
---
Occasionally a little package of dainty things to eat, to help vary our diet. After 2 years of war, it is pretty slim. I will send to Ethel for occasional real supplies such as flavoring and spices & chocolate & cocoa, but I know Jim & the children will welcome with great enthusiasm American gum (Jim likes it) Hershey's Chocolate Almond Bars, Baby Ruth Bar (Ronny reads & re-reads all the advertisements in magazines about these so wistfully) and boxes of cracker jack, grape-nuts.
(1997-5006-3-3; letter to Amy dated August 11 [1939])
Lillian's interactions with the locals in Taiwan meant having to make some adjustments in how she viewed the world and its 'norms'. When they arrived Lillian was shocked at the clothing worn by locals, and her late 1920s self would probably be even more shocked by today's clothing norms:
Jim wears 'shorts' a great deal of the time. We were both rather shocked when we saw men wearing 'shorts' the first time, and I told Jim then, 'Don't you ever wear them. Remember you're a minister.' But we soon got accustomed to seeing them, for the Englishmen wear them for tennis, etc, a great deal. They are short pants and the knee and part of the leg are left bare and they wear outing socks and low shoes. The ladies of the foreign community haven't quite arrived at that stage of emacipation [sic] yet altho [sic] some have confided to me that 'during the hot weather they don't wear much.'
(1997-5006-3-2; letter dated June 2, 1928)
---
Some interactions, while serious in their hindering of accomplishing The Mustard Seed's work, are still somewhat humourous:
Recently I have had to help straighten out an orphanage here. Do you know what my first task was? It was to get a pig out of the bathroom. For the man in charge with a canny eye to money–making even in the city, had established a pig there and was feeding it there and raising it there, with great self-satisfaction thinking he was turning a pretty penny. It took me over a month too [sic] to get the pig out and then I almost had to do the pushing of it myself.
(1997-5006-1-2; circular letter dated December 29, 1949)
Still other interactions with locals required a new way of thinking about social and business negotiation norms, while coming to a realization that a "different" way of doing things may actually be more elegant:
My urgency to get things done sometimes takes away the breath of our Oriental staff who explain, 'Our Chinese way of doing things is not that fast.' This is a delicate hint to me that if I approached a project with slow deliberation perhaps we could save some money, for buying things here is like a game of checkers.
Each one hesitates before he makes a move, and each word uttered is fraught with deeper meaning. It is a duel of wits, and the issue is usually money. However, sometimes they take weeks or months to complete a business transaction, and sometimes it reaches a stalemate. Our American way is 'let's get it done.'
Perhaps their way of living is happier, more restful, and even more poetical than ours. At a store here where I shop I was recently given the directions for cooking meat dumplings coached in their delightful English, 'The Chiao Chih' are ready to serve as soon as the water rises in waves beyond the horizon.' How prosaic our recipes compare to this!
(1997-5006-2-2; circular letter dated February 14, 1966)
---
While natural disasters – usually typhoons and earthquakes – seemed to show up in every other letter that Lillian wrote. These obstacles became 'business as usual' for those living there, along with many other frustrations that seemed to challenge Lillian in the same teasing manner as the comic book villain as she notes in one letter to Marilyn:
---
You will find you will have to pick up bits of the ceiling from the floor each morning. The typhoons evidently soaked through, and I don't want to repair it until all the typhoons are past. […]
Those kerosene lamps that I Painfully [sic] carried from Toronto to the Maritimes and then down through Maine and back to Chicago, where I discarded part of one as too heavy,-well, they don't work here because the only kind of kerosene here is too poor for them to give a good light!!!! Nothing's easy!
Just like that three-minute percolater won't work here because the electricity is not strong enough. When I was a child and looked at the 'funnies' as we called them then, there was always a villain and always in the last picture he would GLARE and say 'FOILED AGAIN!' Well, with my oil lamps and percolater I am 'Foiled again!'
(1997-5006-3-3; letter to Marilyn dated August 22, 1977)
---
---
This Project has been made possible [in part] by the Government of Canada through the Young Canada Works and Heritage Organizations Program. « Ce projet a été rendu possible [en partie] grâce au gouvernement du Canada par de Jeunesse Canada au travail et le Programme des organismes patrimoniaux». This exhibit was created by the Archives summer intern, Victoria Baranow.
*Copyright 2012 – The Presbyterian Church in Canada
If you wish to quote or use any part of this website exhibit, please give credit to The Presbyterian Church in Canada Archives.
---